Affinda has developed a user interface for the Search & Match product that can be embedded within a customer's platform. The interface is an easy-to-use tool that provides transparency to users on the reasons that candidates or jobs scored highly for the given search criteria.
The interface is available for testing within the Affinda web app and can be embedded easily once a customer has moved to a paid plan. The embedded interface can be customised according to customer requirements, including changes to styling and functional elements (see here for more detail on the range of customisations possible).
Uploading a document to Search & Match
Searches within the interface can be created in two ways:
Custom search criteria
Uploading a document for matching
In the case of uploading a document for matching, simply click 'Upload a document' at the top left of the interface and upload either a job description or resume. Our document parsing engine will extract the key details from the document and populate the search query based on the data extracted. This method quickly automates the search process and finds the right matches in seconds.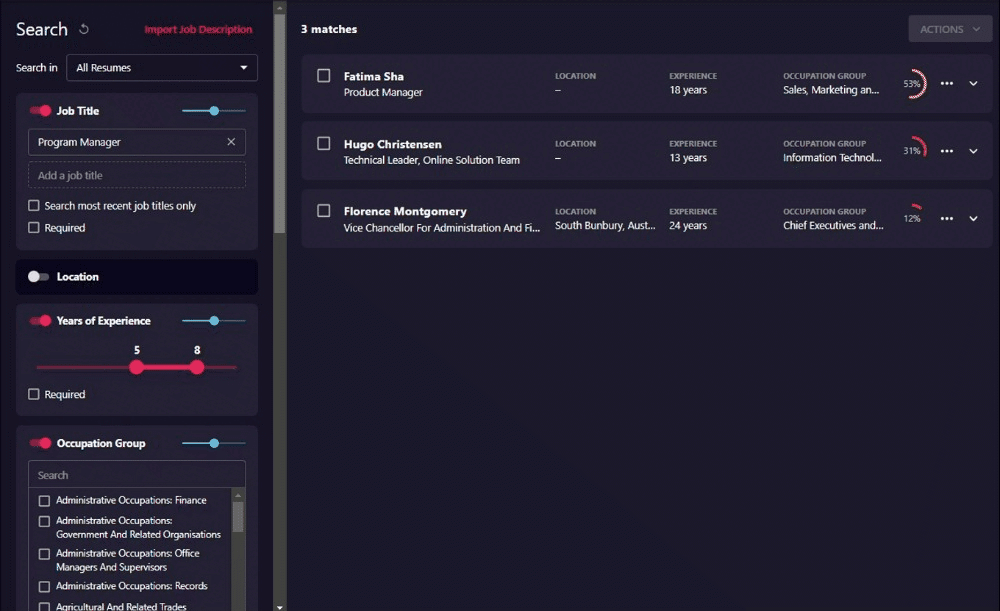 Adjusting a search
A custom search criteria, either from a blank start or using the outputs from an uploaded document, can be created by adjusting the fields and weightings within the Search Interface.
Within the Search Interface, users can easily adjust the following elements to give the best results:
Search fields & criteria
Search types (e.g. current job titles only)
Category weights
The search results will be adjusted in real-time based on the criteria that are visible and do not need to be refreshed.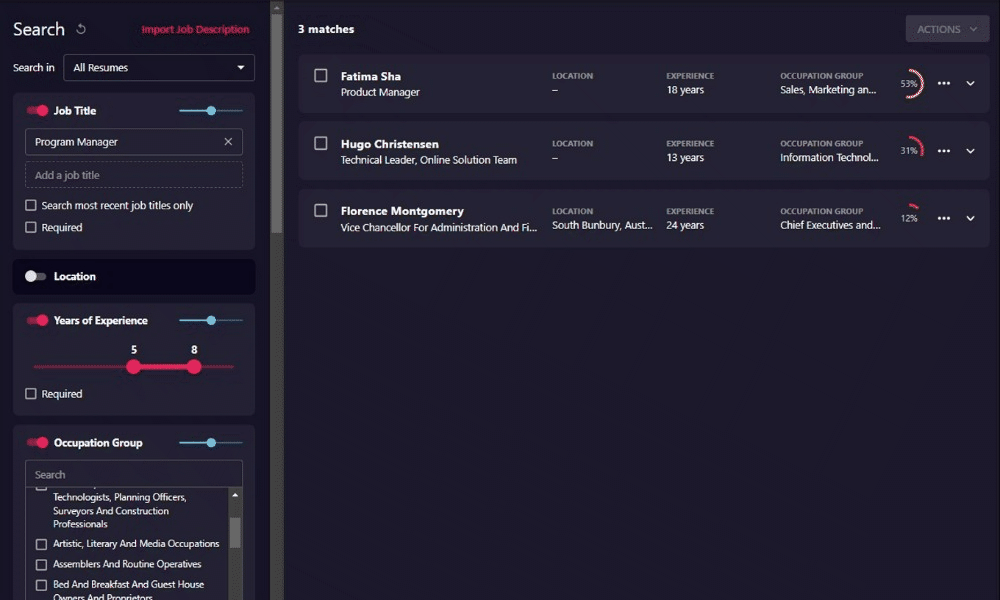 Suggested job titles and skills will appear when these categories are included in the search query. These suggestions are based on what job titles / skills frequently appear alongside the terms that are already included in the query and are an effective way to broaden the search to include a wider range of candidates.
Viewing results
Our results panel quickly ranks and summarises candidates in an easy-to-digest format. If users want to see additional detail about the candidate and where they performed well or poorly against the search criteria and a brief summary of the data held within their profile, expanding the candidate profile will unearth a range of additional detail.
Users can also download the resume directly from the Search Interface if enabled, as well as other actions which can be customised within the users' platform.